A place where visitors of Saga-Arashiyama can gather freely, day and night, throughout all seasons, again and again.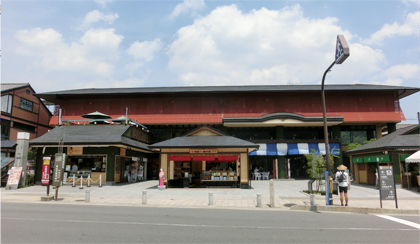 The name of "Arashiyama (literary, 'the storm mountain') comes from the wind known as "Atago Oroshi," which blows down from Mt. Atago in the west edge of Kyoto. It blows away all the cherry blossoms and maple leaves in the area at the end of their seasons. The building of Randen(Keifuku Electric Railroad)'s "Arashiyama Station" is located right across from the gate of the Rinzai sect head temple and World Cultural Heritage, Tenryū-ji. Within the station stands approximately 600 poles decorated with Yūzen prints, like a grove, designed to provide gentle scenery filled with graceful, beautiful lights.

Aiming to be a small "village" that can be enjoyed day and night, the station provides pathways for walk, small parks, kiosks and a "footbath." It also houses the "Pond of Dragon," named after the "Dragon" of Tenryū-ji (literary 'the temple of Heavenly Dragon'). The Dragon serves as the guardian deity of the station, guarding the safety of everyone's journey and making wishes come true.

A station is a special location. It serves as the stage of many stories of people's life, some dramatic, some sweet, visiting, departing, meeting for the first time, bidding farewell, or just simply, living. A prayer accompanies the design of the station, wishing to leave a vivid impression, to bring a little piece of happiness to people who go through it and to stand there as a part of the scenery of Kyoto for years to come.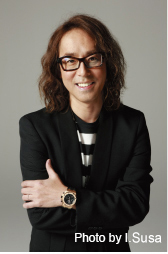 ■Profile
Born in Osaka, JAPAN in 1967.
Since starting with a project in Hong Kong in 2001, he has successfully broadened his appeal to New York, London, Paris, Doha and other major cities. He has also enthusiastically been expanding his career as a designer displaying his talents across a wide variety of graphics and products. His works include Isetan Shinjuku Main Building Remodeling Project ladies floors in 2013 and living and kids floors in 2015, which has received high praise. In 2013 his first monograph "GLAMOROUS PHILOSOPHY NO.1" was published by PARCO Publishing. In November 2015 his first photo exhibition "Porcelain Nude" wad held in Paris, France. Awards: SEGD Global Design Award, A' Design Award and Competition, Design For Asia Awards, the International Hotel and Property Awards, THE LONDON LIFESTYLE AWARDS, the Andrew Martin Interior Designers of the Year Awards etc.
http://www.glamorous.co.jp


"Hannari" describes the grace. "Hokkori" stands for comfort and tranquility. Arashiyama Station aims to be the "Hannari Hokkori Square" where travellers can rest and relax.

Approximately 600 poles decorated with "Yūzen" print, stand together like a grove, designed to provide a gentle scenery filled with graceful, beautiful lights.

Offer prayers to the Dragon that once descended on to Arashiyama, then your wishes will come true. Soak your hands in the water, then your mind will be filled with peacefulness and led to happiness.

As seen in the beautiful scenery around Nonomiya Shrine, the Arashiyama area has been known for the forest of bamboos. Walking through the concourse filled with three thousand naturally grown bamboos, visitors can enjoy imagining the bamboo forest of the ancient times.

Relax and enjoy the gorgeous view of two symbols of Arashiyama, Cherry blossoms and Maple leaves.
【Business Hours】
9:00~20:00 (Late December ~ Late March (10:00〜18:00)
2F 11:00〜20:00 Last Order(Late December ~ Late March 10:00〜18:00 Last Order)
Inquiry Information:(075)873-2121